Eastern Qigong Healing Center
Our Acupuncture Clinics
Holistic Weight Loss
Essence Tai Chi
Qigong Class on Video
Press Releases
Our Healing Services
Qigong Healing
Distance Healing
Acupuncture
Our Healing Therapies
Modern Chinese Medicine
Treatable Illnesses
Patients Must Know
Group Events
Testimonials
Progress Reports
Founder
Our Mission
Oriental Culture Institute
Tom Tam's Books
Health Tips
Healthy Recipes
Online Shopping
Sister Sites
Useful Links
Tai Chi Dao Yin Qigong Class on Video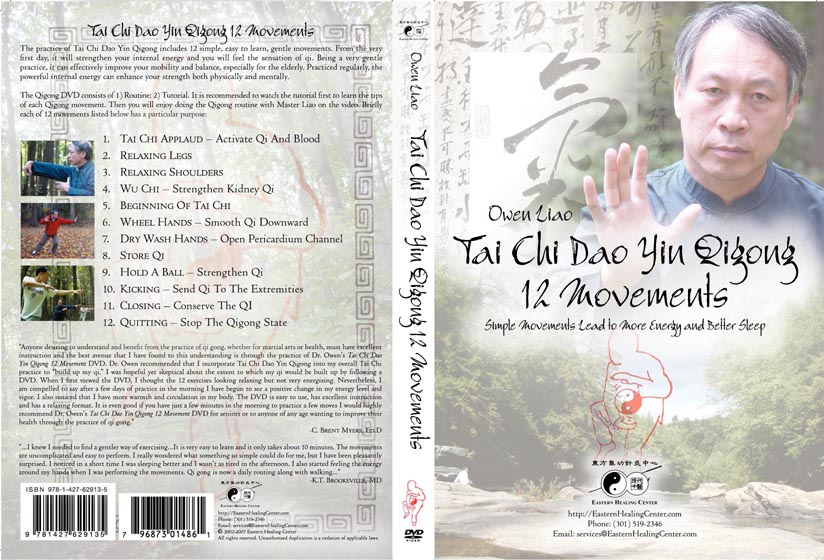 The practice of Tai Chi Qigong includes 12 simple, easy to learn, gentle movements. From the very first class, it will strengthen your internal energy and you will feel the sensation of Qi. Being a very gentle practice, it can be very useful for the elderly. Practiced regularly, a person can gain enough Qi for healing purposes. Then Qigong practitioners can make use of his or her Qi to heal themselves, their friends and relatives, etc.
The principles of Tai Chi Qigong are based on Tai Chi. It is a very relaxed exercise and focuses on strengthening our internal energy (Qi). Briefly, each of 12 movements listed below has a particular purpose:
1. Applaud - Activate Qi and blood
2. Relax legs
3. Relax shoulders
4. Wu Chi
5. Beginning of Tai Chi
6. Wheel hands - Smooth Qi downward
7. Dry wash hands - Open pericardium channel
8. Store Qi
9. Hold a ball - Strengthen Qi
10. Kicking - Send Qi to the extremities
11. Closing - Conserve the Qi
12. Quitting - Stop the Qigong state
We have the Tai Chi Dao Yin Qigong 12 Movement on video tape and DVD with complete instructions. Please shop the video tape at our online store or call us at (301)519-2346. Below are two video clips from our Qigong DVD:
Testimonials
Summary
rSeries Qigong - Relaxing Teeth and Shoulders

I want to thank you for your protocols to help strengthen my teeth and relax my shoulders. ...

They are two wonderful exercises that release endorphins and contribute to my overall body well being.

Internal Massage
As I have practiced the exercises once or twice a day for the past three weeks, the feeling of "internal massage" has slowly increased. This can be quite powerful - almost as if another person were giving a me massage!
Excellent Instruction with Relaxing Format
Anyone desiring to understand and benefit from the practice of Qigong whether for martial arts or health must have excellent instruction and the best avenue that I have found to this understanding is through the practice of Dr. Owen's Tai Chi Dao Yin 12 Movement DVD. ... I am compelled to say after a few days of practice in the morning I have begun to see a positive change in my energy level and vigor. I also noticed that I have more warmth and circulation in my body. The DVD is easy to use, has excellent instruction and has a relaxing format. It is even good if you have just a few minutes in the morning to practice a few moves...
Easy, Simple, Pleasantly Surprised

... I knew I needed to find a gentler way of exercising... It is very easy to learn and it only takes about 10 minutes. The movements are uncomplicated and easy to perform. I really wondered what something so simple could do for me, but I have been pleasantly surprised. I noticed in a short time I was sleeping better and I wasn't as tired in the afternoon. I also started feeling the energy around my hands when I was performing the movements. Qigong is now a daily routine along with walking...

Tai Chi Qigong DVD makes me feel centered
... I only had to look at the instruction section once. It is very easy to follow and understand. To do the 12 movements only takes about 13 minutes. I have used it alone or after an exercise workout. It makes me feel centered. I feel it has strengthened my core and has made me more flexible and balanced. I also feel very calm for the day...
Eastern Healing Center provides Qigong healing, Pi Gu healing, Holistic Weight Loss, Distance Healing, Acupuncture and Tai Chi in Gaithersburg, Rockville, Potomac, and Germantown in Montgomery county, Maryland, and the whole Washington DC area.

Eastern Healing Center is located near the Old Towne Gaithersburg. Our office is only about 1 mile north to Rockville; 12 miles north to Bethesda, Silver Spring and Wheaton; 4 miles south to Germantwon and 6 miles east to Potomac. Gaithersburg is at the center of Montgomery county, Maryland. Montgomery County is a suburban county located in the state of Maryland, north of Washington DC.

Gaithersburg is surrounded by Rockville, Takoma Park, Barnesville, Bethesda, Brookeville, Chevy Chase, Darnestown, Germantown, Glen Echo, Kensington, Kentlands, Montgomery Village, North Potomac, Potomac, Silver Spring, Wheaton, etc.