Eastern Qigong Healing Center
Our Acupuncture Clinics
Holistic Weight Loss
Essence Tai Chi
Qigong Class on Video
Press Releases
Our Healing Services
Qigong Healing
Distance Healing
Acupuncture
Our Healing Therapies
Modern Chinese Medicine
Treatable Illnesses
Patients Must Know
Group Events
Testimonials
Progress Reports
Founder
Our Mission
Oriental Culture Institute
Tom Tam's Books
Health Tips
Healthy Recipes
Online Shopping
Sister Sites
Useful Links
We Care About Your Health !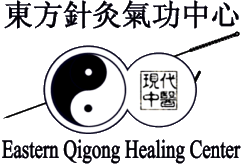 This web site has been created by Eastern Healing Center and is designed to provide information to benefit your health. Besides our healing services, we would also like to share with you our Modern Chinese Medicine which is the principle of our Modern Chinese Therapies. Throughout the web site, we will continuously offer our health tips and provide answers to frequently asked questions. We think that this will provide you more knowledge about health to enhance your well-beings. In the future, we will offer a Mail Box of Healthy Recipes, and Online Shopping. Please check back soon!

On this web site, we also introduce our teacher Tom Tam. Tom has been teaching Tai Chi Quan as well as his unique Tom Tam Healing System, Tong Ren Therapy, etc. While Tom is busy seeing patients from all over the world, he has also dedicated himself to writing books to present and preserve his healing philosophy. For teaching purpose, Tom founded Oriental Culture Institute in 1988. He has introduced his wonderful healing therapies to the whole world via O.C.I. network. Eastern Qigong Healing Center was established with a great deal of Tom's O.C.I. efforts.

Our Meridian Tong Ren Therapy is based upon Tom's Tong Ren Therapy. Tong Ren Therapies are all based on Tai Chi Qigong combined with collective unconsciousness, the Tom Tam Healing System and meridian systems from Chinese medicine. It has three great advantages:
- Unlimited powerful energy

- No medication, no side effects
If you are interested in our seminars, Tai Chi Quan classes or retreats, please return and visit our Group Events page. We also list many O.C.I. qualified healers for your health needs.
To contact us, please call (301)519-2346 or send an email to services@EasternHealingCenter.com
Eastern Healing Center provides Qigong healing, Pi Gu healing, Holistic Weight Loss, Distance Healing, Acupuncture and Tai Chi in Gaithersburg, Rockville, Potomac, and Germantown in Montgomery county, Maryland, and the whole Washington DC area.

Eastern Healing Center is located near the Old Towne Gaithersburg. Our office is only about 1 mile north to Rockville; 12 miles north to Bethesda, Silver Spring and Wheaton; 4 miles south to Germantwon and 6 miles east to Potomac. Gaithersburg is at the center of Montgomery county, Maryland. Montgomery County is a suburban county located in the state of Maryland, north of Washington DC.

Gaithersburg is surrounded by Rockville, Takoma Park, Barnesville, Bethesda, Brookeville, Chevy Chase, Darnestown, Germantown, Glen Echo, Kensington, Kentlands, Montgomery Village, North Potomac, Potomac, Silver Spring, Wheaton, etc.